StickyPoint Magazine : Issue 06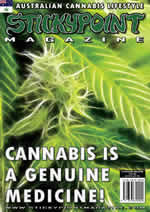 Released: Feb 2010
Details: 104 pages, full-colour gloss, double-sided centrefold
Writers: Dr. John Jiggens, Dave Rousell, Marco Renda, Nevil Pinto
FEATURE STORIES:
DEPARTMENTS: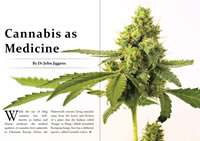 "Cannabis as Medicine " - Dr John Jiggens
While the use of drug cannabis was well-known in Indian and Islamic medicine, the medical qualities of cannabis were unknown in Christian Europe before the Nineteenth century.
Drug cannabis came from the leaves and flowers of a plant that the Indians called 'Ganga' or 'Bang', which resembled European hemp, but was a different species, called Cannabis indica.
Originally a central Asian plant, its use spread around the Indian Ocean where it became known in the Middle East as 'Hashish' and in Africa as 'Djambe'.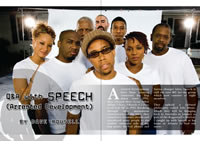 "Q&A with Speech (Arrested Development) " - Dave Rousell
Arrested Development have been creating conscious hip hop music since 1991, they released their classic album 3 Years, 5 Months & 2 Days in the Life Of in 1992. Breaking through into mainstream consciousness at the time, they earned two Grammy awards and introduced many people to the soulful, authentic side of hip hop music.
Several albums and lineup changes later, Speech is still the core MC for the group which now consists of eight members. They uphold a cultural philosophy called Life Music, which they will be bringing back to Australia in January as part of the Raggamuffin festival.
I caught up with Speech at his home in Atlanta to find out more:
"Trials & Tribulations of legally using Marijuana as my medicine " - Marco Renda
My name is Marco Renda and I have been licensed to grow and use marijuana as my medicine since 2003. It wasn't easy getting my license; as a matter of fact it took me 3 years just to find a doctor who was willing to sign the Health Canada forms. When I was applying for my medical marijuana license I needed 2 doctors to sign the necessary forms.
My battle began in 2001 when I joined a group of 6 med patients who were filing a class action lawsuit against the Canadian Government. It was through this court case that I met 2 compassionate doctors who were willing to sign my forms for Health Canada. Since day 1 and up to TODAY dealing with the bureaucrats at Health Canada has been no picnic. These bureaucrats take their sweet time in returning phone calls; I have waited over 1 week for a return phone call even though the call centre states that your call will be returned within 48 hours.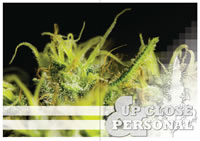 "Up Close & Personal " - Macro Buds Pictorial
Beautiful, thick and lucious buds, nice and up close. Each individual trichome glistens in the light.
"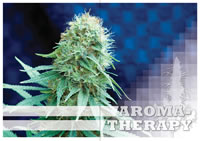 "Aroma-therapy" - Buds Pictorial
Buds that are ripe 'n ready... is there anything sweeter? Not too many things, that is for sure.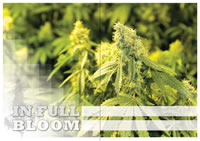 "In Full Bloom " - Indoor Buds Pictorial
A fantastic selection of flowering plants, hitting that full maturity and ready for harvest.
As a child I was always drawing. I remember going through a period where I really felt comfortable with the thought that I could do it for a living, but then I became a teenager and I lost my connection. It wasn't until I turned thirty that I found it again and by then I was in a better position to give it its due.
I started with paintings and drawings of people who inspired me like Kurt Cobain, John Belushi and various other artists. Progressing to landscapes, I quickly felt restricted with the realistic style I was using.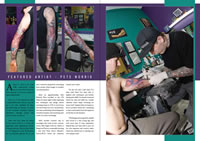 "Featured Tattoo Artist" - pete Norris
Almost as soon as he could walk, inspirational young tattoo artist, Pete Norris has been using his art work as a means of expressing himself. Now, at 22 the talented up- and-coming Melbourne tattooist says his art is not only 'speaking' for him, but illustrating the dreams of scores of new customers wanting to express themselves through unique and creative forms of body art.
Pete, who first made his debut in the tattoo world as a 15-year-old apprentice with experienced award-winning tattooist, Richard McCarthy at his Ringwood shop Renaissance has an insatiable appetite for his art and a creativity inspired by everything from ancient tribal images to modern customised pieces.