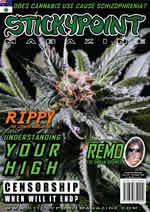 Home-grown, produced and printed here in Australia, StickyPoint aims to deliver a clear, informed and educated look at cannabis in Australian Society. Backed with a team of high quality writers and artists, StickyPoint Magazine hits the shelves every few months.
StickyPoint Magazine evolved from an idea in early 2006, to a fully-fledged magazine by the end of 2006. In December 2006, the first issue of StickyPoint Magazine hit the shelves, reaching over 1000 retailers across the country. The first issue was an impressive 88-page full-colour gloss, with thicker stock for the cover and double-sided centrefold.
In March 2007, Issue 02 hit the shelves. The second issue bulged out to 104-pages, still featuring the thicker cover and double-sided centrefold. Since then, another few issues have been published, covering the topics of Industrial Hemp, Medicinal Cannabis, Harm Reduction, Laws & Policies and Hemp History (both in Australia and overseas).
Each issue of StickyPoint Magazine delivers stories (editorial and entertainment) and art (photos and drawings). The editorial stories cover issues such as Medicinal Use, Industrial Hemp & Cannabis Laws. Our entertainment stories include festival reviews, band interviews, Rippy the Stoner Kangaroo and Remo the Urban Grower.
Each issue comes sealed in plastic, to lock in the freshness. RRP is $9.95, to find your nearest retailer, please check the store locator.
We welcome all contributions from our magazine readers and website visitors. We cannot guarantee publication of your contributions, but if approved we will let you know in advance. For more details on how to submit your contributions, please check our contact details.