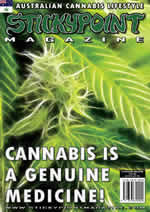 StickyPoint Magazine : Issue 6
Released: July / August 2008
Issue 5 of StickyPoint Magazine has been crowned our first BudShot Spectacular. It is jam packed with beautiful glossy bud shots; Outdoors, indoors, ripe and ready, spread across 3 individual multi-page pictorials.
There are 2 main feature stories; the first covers the use of Cannabis Tincture to help treat PTSD (Post Traumatic Stress Disorder). The second story is a history lesson on how Marijuana Prohibition originated here in Australia.
As always, we have the regular column from The Goddess. In true Goddess form, there are no holds barred as she calls it as she sees it. Our featured artists is Fractal Mick, who produces mathematical fractal images, which are guaranteed to bend your mind.